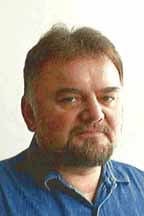 Lorenz Sichelschmidt , born in 1954, is a lecturer and researcher at the University of Bielefeld, Germany. He received a PhD degree in Psychology. His professional interests are in language comprehension, in cognitive processes during reading, and in people's use of multimedia information.
In 1995, after several years of research, Lorenz Sichelschmidt has published a biographical book on Mala Zimetbaum, one of the great heroines in the Jewish resistance during the Holocaust:
Sichelschmidt, L. (1995). Mala -- ein Leben und eine Liebe in Auschwitz [Mala -- a life and a love in Auschwitz]. Bremen, Germany: Donat Publishers (ISBN 3-924444-89-7)
---
Contact:
Faculty of Linguistics, University of Bielefeld, POB 100131, D-33501 Bielefeld, Germany.
E-mail: msichels@nov1.lili.uni-bielefeld.de
Publications available on IDEA:
Mala - A Fragment of a Life
June 1, 1998 Vol.3, no.3
Companion photographs